Serve with Worship Ministries
UBC offers a wonderful variety of opportunities for you to express your love to God through serving in the Worship/Media ministries. Whether you sing, play an instrument or love to be creative with multi-media tasks, we have a place for you.
Worship Band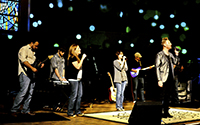 The worship band leads each Sunday during the contemporary service.
If you play an instrument or sing and feel that you would like to be a part of our worship team you can join Ben and the team on one of the scheduled jam nights or you can request a private audition as well.
Choirs
Sanctuary Choir (adults)
UBC's Sanctuary Choir leads Sunday's congregation in the traditional worship service by providing inspirational congregational singing and meaningful music. On a seasonal basis, the Sanctuary Choir presents concerts and special performances to reach out to the Clear Lake area with the message of Christ. No audition or previous experience is necessary. Sanctuary Choir is open to college students and adults.
Chamber Singers (adults)
A small vocal ensemble of audtioned voices from our Sanctuary Choir. This group performs a variety of classical choral literature as well as spirituals and modern anthems. Their concert venue is usually twice a year, and as well as lead in Sunday morning worship on occasion. Chamber Singers meet for rehearsal on Sunday evenings in the fall and spring.
Highlight Choir (high school)
Highlight Choir prepares for singing in Sunday worship and takes a weekend choir tour in the spring. They meet in the fall and spring. All high school students are invited to join.
Shout Choir (intermediate school)
Intermediate choir meets on Sunday afternoons. Like Highlight, they also prepare for singing in Sunday worship and take a weekend choir tour in the spring. They meet in the fall and spring.
Chorus Kids (children grades 1-5)
Chorus Kids is a great place for children to learn to sing and worship God through a variety of musical experiences. Kids sing songs, play fun games, and learn about worshiping God. The kids present a Christmas concert in December and a musical in late spring. In addition to this, they participate in worship on occasions during the year.
Praise Kids (preschool 3,4,5 years old)
Preschoolers, 3 years (by Sept. 1) – Kindergarten, learn to worship God while learning fun songs, playing instruments and participating in musical activities. Praise Kids presents a Christmas Concert and Spring Concert each year. Come join the fun!
Handbells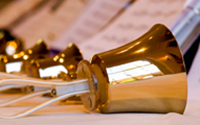 UBC offers two adult handbell groups. These adult groups ring once a month during the traditional worship service and as needed for special services and events. UBC also has a variety of youth handbell opportunities from high school-aged students to children. The youth groups ring once or twice a semester and as called upon for special services and youth trips. Older children ring at Christmas and at the end of the spring semester. Second graders learn music skills on a variety of instruments. more info Lou Ann Bussey, 281-488-8517 x317
Praise Ringers (adults)
Rehearsal Wednesdays, 6:00-7:00 pm
Exaltation Ringers (adults)
Rehearsal Sundays, 5:45-6:45 pm
Alleluia Ringers (high school)
Rehearsal Sundays, 4:00-4:45 pm
Carillon Ringers (intermediate school)
Rehearsal Sundays, 4:00-4:45 pm
Celebration Ringers (children grades 4-5)
Rehearsal Sundays, 4:00-4:45 pm
Jubilation Ringers (children grades 2-3)
Rehearsal Sundays, 4:00-4:45 pm
Orchestra
The UBC Orchestra is made up of both church members and non-members. It is a group dedicated to being a part of the worship ministry in the traditional worship service at UBC. We are adults and students who desire to serve God through our musical abilities and lead in worship.
The Orchestra is always looking for people to come and join our family of players. If you play or know of someone who plays an orchestral instrument, please let us know. All are welcome to come and join in the fun. Bring your instrument and help us lead in worship at UBC.
Rehearsal Wednesdays 7:15-8:30 pm; more info Bob Wall
Multimedia Ministry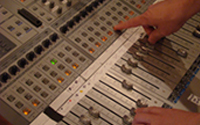 The goal of the Multimedia Team is to provide audio, video and lighting support for all church sponsored events.
This includes live production support, recording and producing videos and other multimedia productions for use in the various services and activities, and recording weekly services and selected other events to DVD, CD, and/or the web.
UBC is fortunate to have a long history of willing multimedia volunteers. Some team members serve on a weekly basis, others serve on an "as needed" basis.
Activities and Technologies
Multimedia Team volunteers have the opportunity to learn and operate a wide variety of state-of-the-art gear. This includes things like:
production-grade studio cameras and video switchers
hi-definition video cameras
Mac or PC video and audio editing software
analog and digital audio mixers
standard and DMX lighting
Hands-on training is provided by qualified personnel and on-going support is always available. more info Michael Cowey