Weddings
Are you a bride-to-be looking for the perfect location for your big day? Maybe you are a parent-of-the-bride seeking more information about our facility rental and wedding policies.
UBC welcomes your inquiries about availability of our facility. During the summer months, our wedding schedule fills up quickly, so make your reservations early.
Our information packet will be helpful in planning your marriage ceremony at UBC Check out the following information, and contact us if you any questions or to request a list of fees.
Worship Center Stage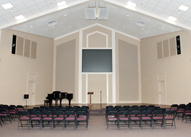 Chapel
Contact us for more information, 281-488-8517.