Senior Pastor Transition Plan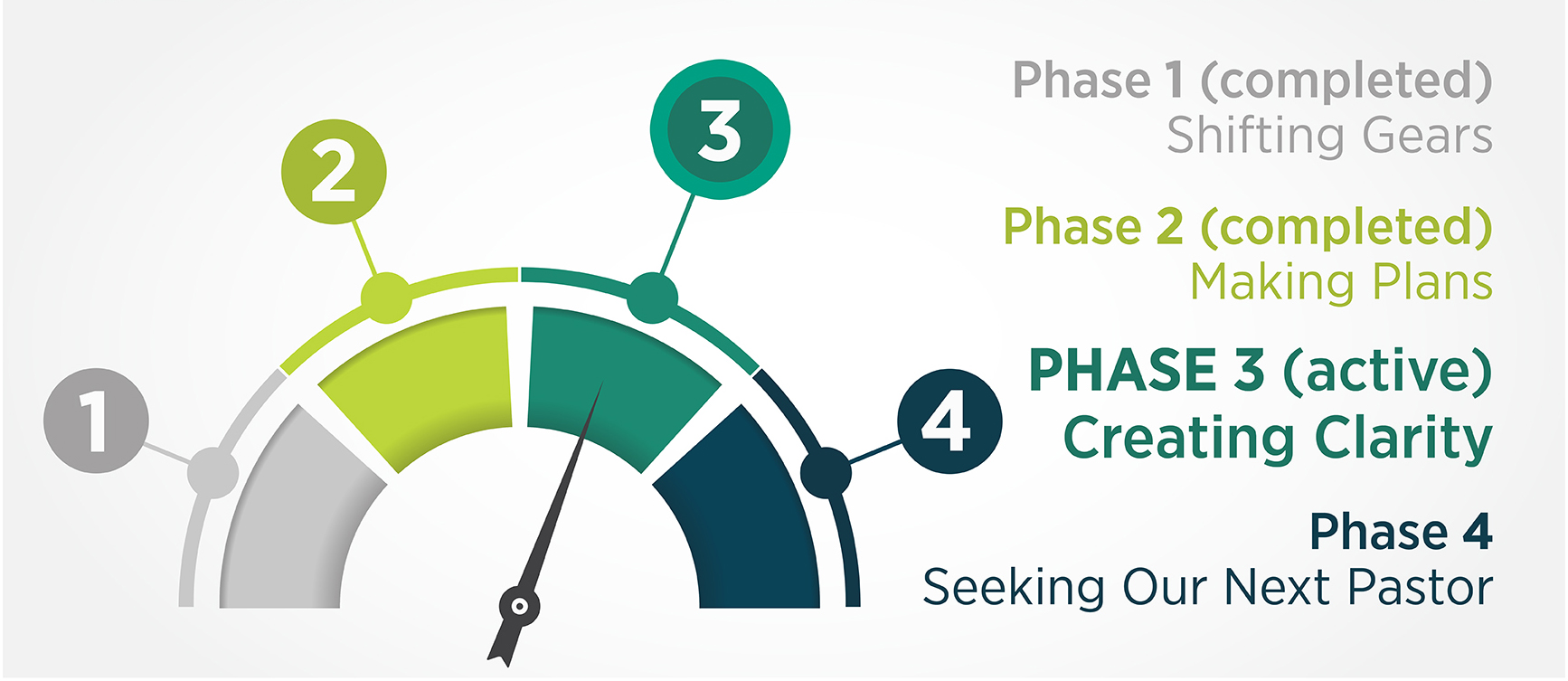 Pastor Search Task Force Recommendations
We're moving smoothly through Phase 3, but it's time to begin preparing for Phase 4. Nominations are currently being accepted for the Pastor Search Task Force. If you think someone would be a prayerful, effective nominee for this team, use the link below to submit their name. Printed copies of this form are available at The Porch and the Connection Corner. You can drop off your completed form in the offering boxes or in the mailbox at The Porch. Nominees must be UBC members, must be active participants and they must have agreed to be nominated before you submit their name. Most of all, thank you for continuing to pray through this transition period.
Click here to submit a Nominee!
Recent Event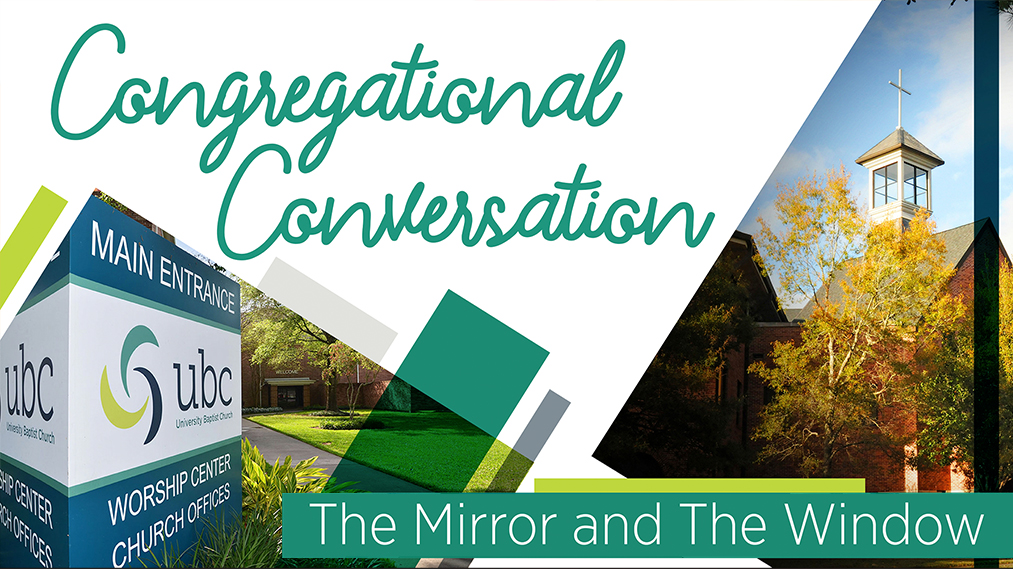 Congregational Conversation #2, The Mirror and The Window
To gain clarity about our identity, we will have a series of three churchwide conversations focused on our past, present, and future as a congregation. We'll all be invited to share our thoughts, and that information will be gathered up and turned into what's called a Congregational Profile. Our second conversation is on March 28! Whether you've been a part of UBC for a couple of months or many years, everyone is invited and encouraged to join us online for this conversation.
March Updates:
During the first Congregational Conversation on January 28, over 450 people from UBC shared well over a thousand stories with their newfound UBC friends. These stories were about who and what brought them to UBC, who and what has kept them connected to UBC, and the heartwarming accounts of events in their life that made UBC "their church." The Transition Team has read all of these quotes and notes many times and has recognized many recurring themes discussed at length (it's what UBCers do).
These stories and themes reveal underlying values apparent in the people of UBC. We will return many times to these values as we continue to build the congregational profile to be provided to the Search Committee and the prospective Senior Pastor candidates. Please check out the new series of social media posts where team members share words said and the themes and values revealed. Your stories are telling the story of UBC!
Meanwhile, the transition team is also busy collecting measures, looking at trends, and gaining insights into both UBC itself and the community we serve. During the 2nd Congregational Conversation (above) we will be together again to look in the mirror at ourselves within UBC and through the window at our community and hear from some community leaders. Everyone will have an opportunity to share ideas on both topics in smaller break-out rooms of 10-12 people each with a facilitator. Look for an upcoming podcast where Matt will dive deeper into these ideas to prepare you for another exciting and inspirational evening.
Connect with us on social media (search UBC Houston on Facebook, Twitter, and Instagram), sign up for our UBC E-news (www.ubc.org/e-news), and listen to our podcasts, Living UBC, found on the UBC App, Apple Podcasts, and Spotify.
Register above for the 2nd Congregational Conversation on Sunday, March 28th starting at 6 pm on Zoom.
UBC Prayer Guide:
The UBC Transition Prayer Guide: A Time of Prayer for a Season of Transition remains available for download below. It is a three week, interactive prayer guide around the themes of Celebrating our Past, Living in the Present, and Preparing for the Future. Feel free to use this guide throughout the spring.
If you missed the UBC Leadership zoom meeting on Jan. 6 or want to watch it again, we've posted the video here.
Thank you for your interest in UBC's Senior Pastor Transition. Please feel free to bookmark this page to help you stay up to date as we share this important journey together.
Throughout this critical time in the life of our church, this page will serve as a hub for information and resources about the transition period and the search for a new Senior Pastor. We will communicate through other channels as well, including social media, e-news, our weekly bulletin, etc. However, all of that information will be organized and stored here so you can return to it or refer others who may be interested in being engaged in the process and praying along with all of us for our church and our next senior pastor.
Phase One – Shifting Gears (COMPLETED)
Phase One included selecting the Interim Transition Team, identifying and interviewing candidates for an Interim Pastor, and then hiring the chosen candidate. We are excited that Dr. Matt Cook, Assistant Director of The Center for Healthy Churches, is now our Interim Pastor. You can read more about Matt, the Center for Healthy Churches, and the Interim Transition Team in the buttons on the right side of this page.
Phase Two – Shifting Gears (COMPLETED)
A Transition Plan has been drafted, and we are beginning to execute that plan. Our Senior Pastor Transition Team has now been selected (click their button at the right of the page for more information). This new team will be an integral part of the next steps and will guide us through the rest of the transition period. Also, our Communication Plan is nearly finished.
Phase Three – Creating Clarity (ACTIVE)
We have just shifted to Phase 3. The new Transition Team members have begun their work. We will participate in a church-wide Congregational Self-Study, which will involve conversations around the themes of Celebrating Our Past, Examining Our Present, and Envisioning Our Future. Those conversations will be the source of content for a Congregational Profile to be used by a Search Committee, which will be elected near the end of this phase.
Phase Four – Seeking Our Next Pastor
During this final phase, the Search Committee begins their work, creating and sharing the Next Pastor Profile and executing the search process. The phase culminates in Call Weekend with the Pastoral Candidate and the Congregation.