Senior Pastor Transition
Meet the Pastor Search Task Force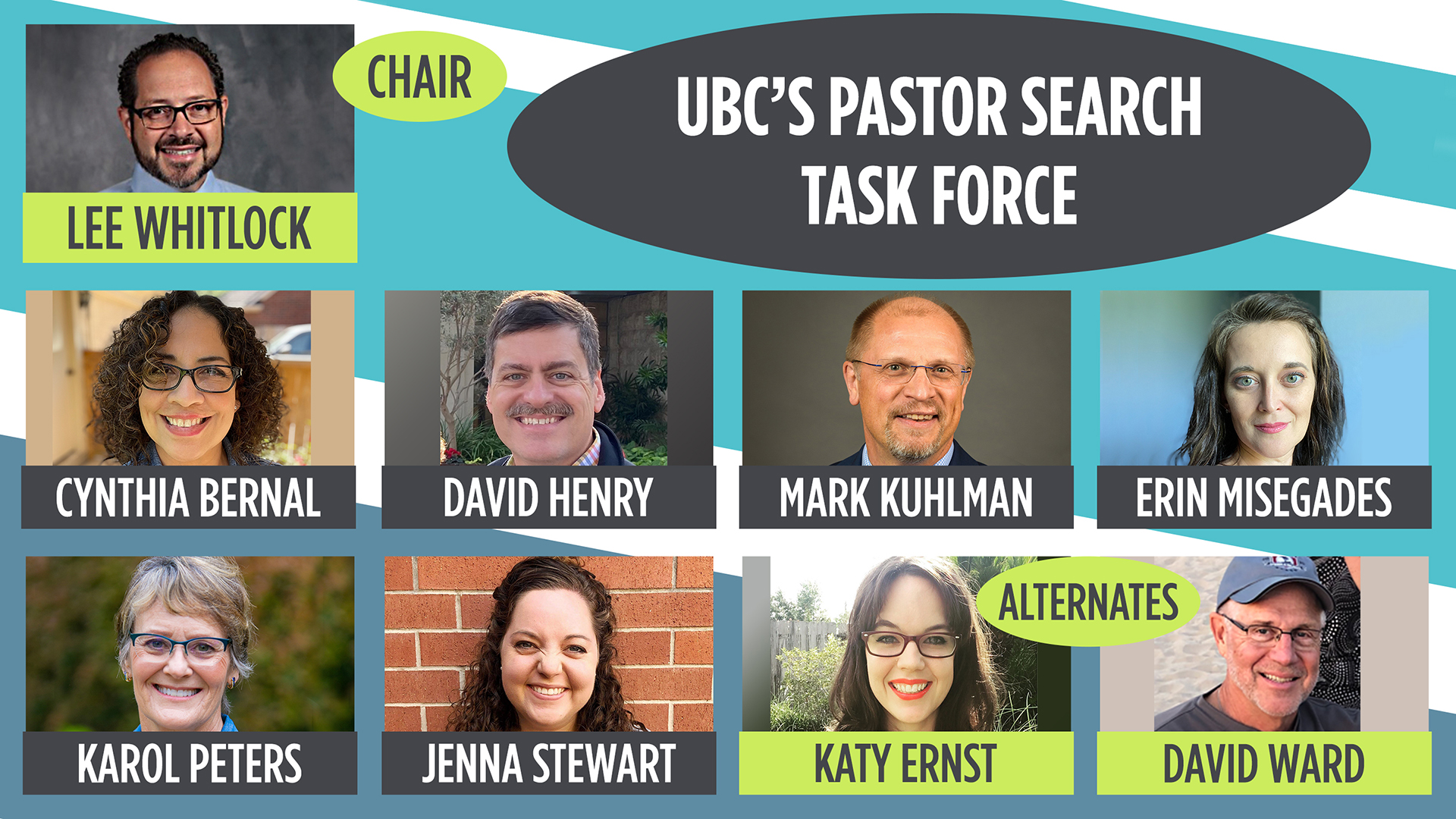 The UBC Transition Process leading to the Pastor Search
The first two congregational conversations set the stage for the third, and likely historic, church-wide, online conversation this Sunday, May 23, at 6 pm. In this update, we will talk about the transition process going forward into the pastor search phase as well as reflect on the second conversation. Please take a few minutes to read and consider the update.
The Transition Team phase, which started in January, provides opportunities for the UBC church family to talk about the past, present, and future to help provide clarity around the qualities that make UBC our church home. There has been great value in the conversations themselves! Many have expressed how much they enjoyed meeting new UBC members during the sessions and having a chance to talk about UBC. It has been a long time since the church has gathered (even virtually) to have wide ranging conversations about things like; 1) the people and opportunities that brought us here, 2) who we are and what the community we serve is like, and 3) where we want to go and what traits the new Senior Pastor should have.
After the third conversation, all of the ideas, values, energies, and traits you have shared will be compiled into a UBC profile and made available to the Pastor Search Task Force to help communicate with prospective Senior Pastor candidates. This profile will also be available to the church. We anticipate that this compilation will be complete at the end of June. The newly elected Pastor Search Task Force will be forming and starting their work during the month of June concurrently with the completion of the UBC profile. However, they do not have to wait! The Search team has access to all of the information from these conversations and surveys and will be working on their processes and a Senior Pastor profile at the same time.
Congregational Conversation 2: The Mirror and The Window
The first conversation, described below on this website, focused on our stories of arriving at UBC and what makes UBC our home. The Second Congregational Conversation was more introspective, looking in the mirror at ourselves and out the window at our community. We reflected on measures such as attendance, giving, engagement, ethnic makeup, generational factors and life stages, and other attributes. Like any time of reflection and self-study, this was a bit more serious and contemplative session.
Out of all the data we examined, our attention and focus were drawn most strongly to aspects of our identity that overlap with our external ministry community and context. Even the concerns widely voiced about certain aspects of our internal identity (e.g., our racial and socio-economic makeup) were discussed because we are concerned they might prevent us from serving our community. It affirmed that UBC remains a caring and outward looking church, seeking to connect to our community to share the love of Christ.
The energy in the breakout sessions tended toward these three themes; 1) There is significant energy in the congregation around engaging the community and doing that in ways that open UBC to the increasing diversity around us. 2) There is significant energy in the congregation around outreach to young adults and other single adults whose life circumstances differ from the traditional married-with-kids family dynamic that has been central to UBC. And, 3) There is significant energy around finding ways to meet the urgent human needs of UBC's immediate ministry contacts. This includes but is not limited to mission partnerships to many people groups, mental health and welfare needs, family conflict needs, and the needs of international populations (especially those emerging connected to UHCL).
This should not necessarily be interpreted to mean that other aspects of our identity (spiritual, financial, attendance, worship, programmatic, etc.) are in any way less important. After all, the conversations were guided by the various measures provided for that conversation. However, the conversations within these areas affirm that our core values have been very stable over time. Rest assured that many aspects of UBC, including its history, bible study and preaching, worship, missions, and programs, will be richly included in the UBC profile.
The first and second congregational conversation, in many ways, was a reaffirmation of our three-fold commitment to belonging, preparing, and serving. The Third Congregational Conversation offers people the opportunity to provide direct input into some attributes, or polarities, of UBC. And, it offers an opportunity to talk about and record input on the type of Senior Pastor UBC should be looking for as a leader. An actual survey to be filled out by each individual will be included in the conversation with space for open comments and recommendations. So, please join your UBC family for Congregational Conversation #3!
UBC Prayer Guide:
The UBC Transition Prayer Guide: A Time of Prayer for a Season of Transition remains available for download below. It is a three week, interactive prayer guide around the themes of Celebrating our Past, Living in the Present, and Preparing for the Future. Feel free to use this guide throughout the spring.
NEW: Download the Prayer Guide Vol. 2
Thank you for your interest in UBC's Senior Pastor Transition. Please feel free to bookmark this page to help you stay up to date as we share this important journey together.
Throughout this critical time in the life of our church, this page will serve as a hub for information and resources about the transition period and the search for a new Senior Pastor. We will communicate through other channels as well, including social media, e-news, our weekly bulletin, etc. However, all of that information will be organized and stored here so you can return to it or refer others who may be interested in being engaged in the process and praying along with all of us for our church and our next senior pastor.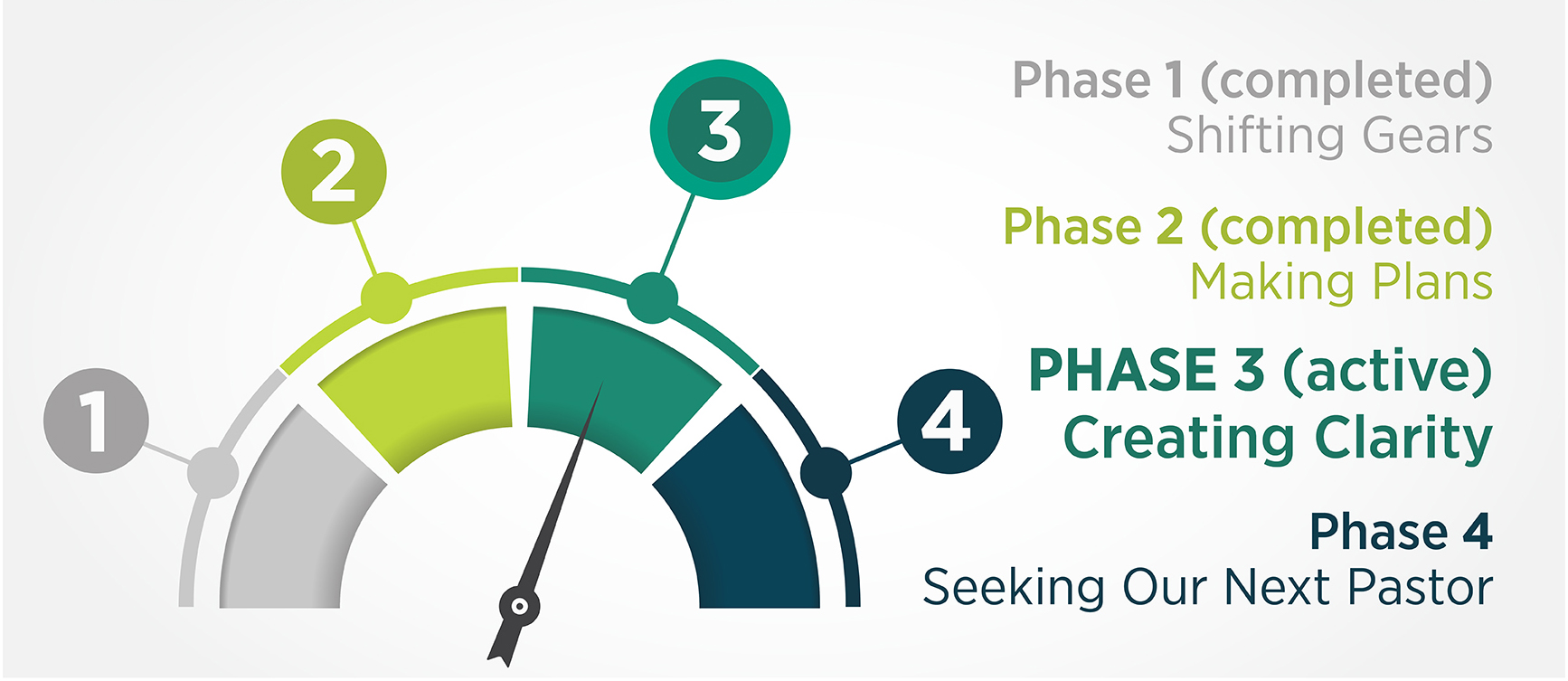 Phase One – Shifting Gears (COMPLETED)
Phase One included selecting the Interim Transition Team, identifying and interviewing candidates for an Interim Pastor, and then hiring the chosen candidate. We are excited that Dr. Matt Cook, Assistant Director of The Center for Healthy Churches, is now our Interim Pastor. You can read more about Matt, the Center for Healthy Churches, and the Interim Transition Team in the buttons on the right side of this page.
Phase Two – Shifting Gears (COMPLETED)
A Transition Plan has been drafted, and we are beginning to execute that plan. Our Senior Pastor Transition Team has now been selected (click their button at the right of the page for more information). This new team will be an integral part of the next steps and will guide us through the rest of the transition period. Also, our Communication Plan is nearly finished.
Phase Three – Creating Clarity (ACTIVE)
We have just shifted to Phase 3. The new Transition Team members have begun their work. We will participate in a church-wide Congregational Self-Study, which will involve conversations around the themes of Celebrating Our Past, Examining Our Present, and Envisioning Our Future. Those conversations will be the source of content for a Congregational Profile to be used by a Search Committee, which will be elected near the end of this phase.
Phase Four – Seeking Our Next Pastor
During this final phase, the Search Committee begins their work, creating and sharing the Next Pastor Profile and executing the search process. The phase culminates in Call Weekend with the Pastoral Candidate and the Congregation.