Senior Pastor Transition
NEW: Download the Prayer Guide Vol. 3
UBC Pastor Search Task Force Update (revised slightly 11-30-2021)
Thank you for your continued prayers for the work we are doing as the Pastor Search Task Force.
We have prayerfully completed the pastoral profile. Throughout this process, our search task force has repeatedly sought and felt the Holy Spirit as He kept us in unity as we represented and shared the many perspectives of the church body. God is at work and we have a very complete picture based on countless hours of reading and re-reading the survey results and comments of what our UBC family is searching for in our next pastor.
Please continue to keep us in your prayers as we engage with candidates. If you have questions for us, you can send an email to us at .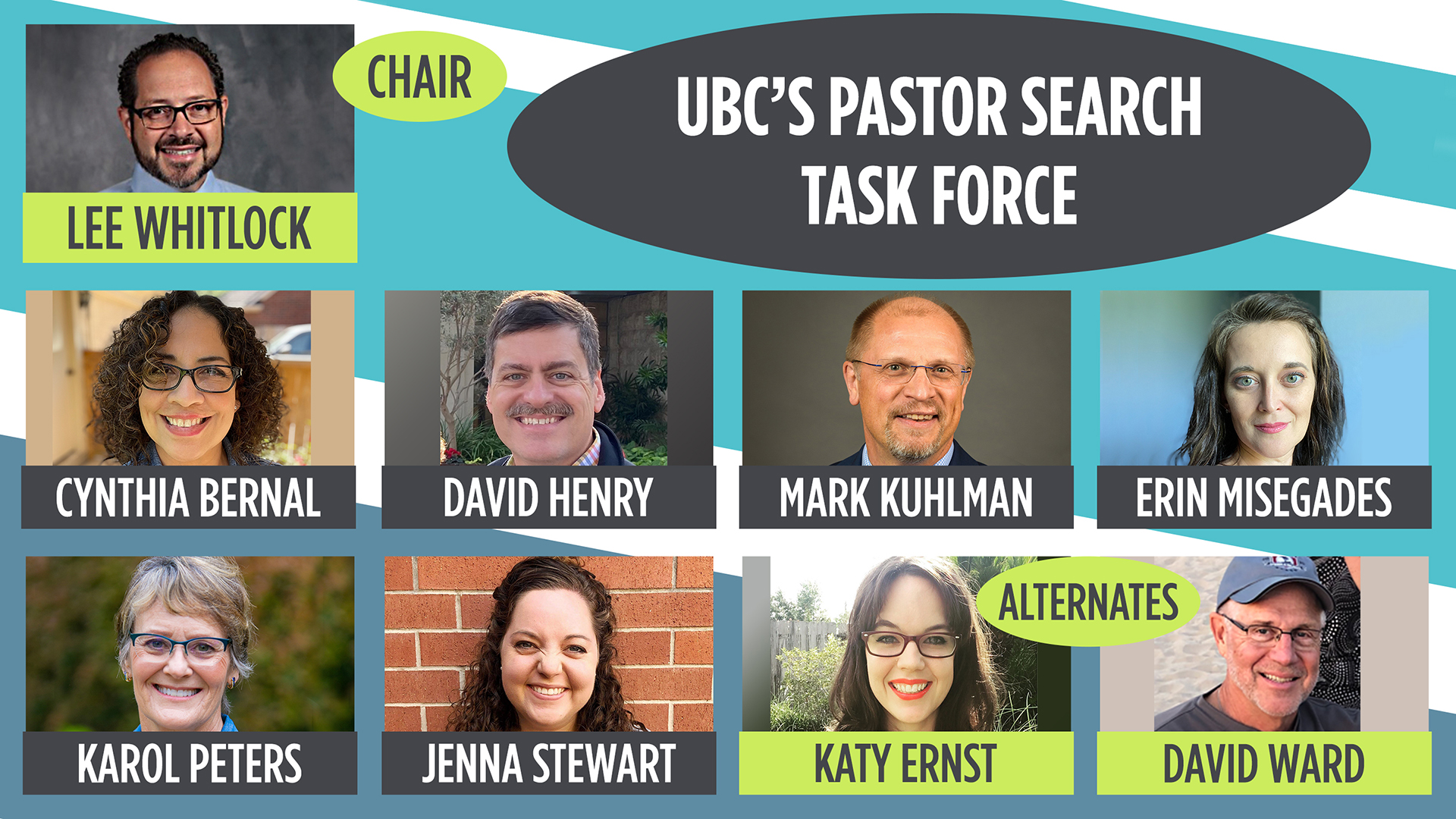 Update from the Transition Team (8-19-2021)
The UBC Transition Team has completed its work as part of the overall UBC Transition plan, Phase 3: Creating Clarity with the release of the UBC Profile. This spring, our church family met online (due to Covid-19) three times to participate in Congregational Conversations about our life at UBC. 250 to 450 people joined those conversations around a range of relevant topics. After each session, the Transition Team met at length to discuss the several thousand comments and input every breakout session and activity. The team compiled common themes, apparent values, evidence of where we put our energy as a church, and more. Visit our webpage, ubc.org/transition, to find links to information and reports from all three congregational conversations. To hear more, there are several Transition Team episodes on our UBC podcast, Living UBC. You can find Living UBC on your podcast app or visit ubc.org/podcast. A full online survey on the life of UBC as well as some desired traits for our new Senior Pastor was also conducted with around 380 people participating.
The UBC Profile is a full-color document that summarizes what we heard from UBC members and those regularly involved in the life of UBC this spring and summer. It includes information about our history, our mission, how we are organized, the pastors and staff, and about worship and ministry at UBC. The pastors, staff, Executive Council, and the Pastor Search Task Force also provided input and review of the Profile. This writing is a look at who we are today and where we would like to go in the future. Its primary purpose is to offer prospective pastors an in-depth look at UBC and an invitation to join us and provide leadership as we continue to fulfill our mission. Copies of this profile are also available to the congregation in print and as a pdf at a web link provided through the UBC E-News.
The Pastor Search Task Force (PSTF), led by Lee Whitlock, is already hard at work and has started to advertise and search for candidates. Lee and his team will be making regular reports through this website and during Sunday services. There are two parts to the content from the conversations and the survey that will be presented. All the words and ideas about UBC itself during the three conversations and the first half of the survey are captured in the UBC Profile. The ideas from UBC members related to the traits of the next Senior Pastor received during the third conversation and from that portion of the survey are being included in the work of the PSTF as they prepare the requirements and characteristics for the senior pastor. They are preparing a "Pastor Profile" from the church input which will guide them as they advertise, network, and then select and interview candidates.
Throughout this transition process, we have enjoyed the kind words, prayers, and heartfelt discussions about UBC. On behalf of the Transition Team, thank you for your support for UBC and thank you for your enthusiasm for UBC looking to the future.
UBC Prayer Guide:
The UBC Transition Prayer Guide: A Time of Prayer for a Season of Transition remains available for download below. It is a three-week, interactive prayer guide around the themes of Celebrating our Past, Living in the Present, and Preparing for the Future. Feel free to use this guide throughout the spring.
NEW: Download the Prayer Guide Vol. 3
Download the Prayer Guide Vol. 2
Thank you for your interest in UBC's Senior Pastor Transition. Please feel free to bookmark this page to help you stay up to date as we share this important journey together.
Throughout this critical time in the life of our church, this page will serve as a hub for information and resources about the transition period and the search for a new Senior Pastor. We will communicate through other channels as well, including social media, e-news, our weekly bulletin, etc. However, all of that information will be organized and stored here so you can return to it or refer others who may be interested in being engaged in the process and praying along with all of us for our church and our next senior pastor.
Our Process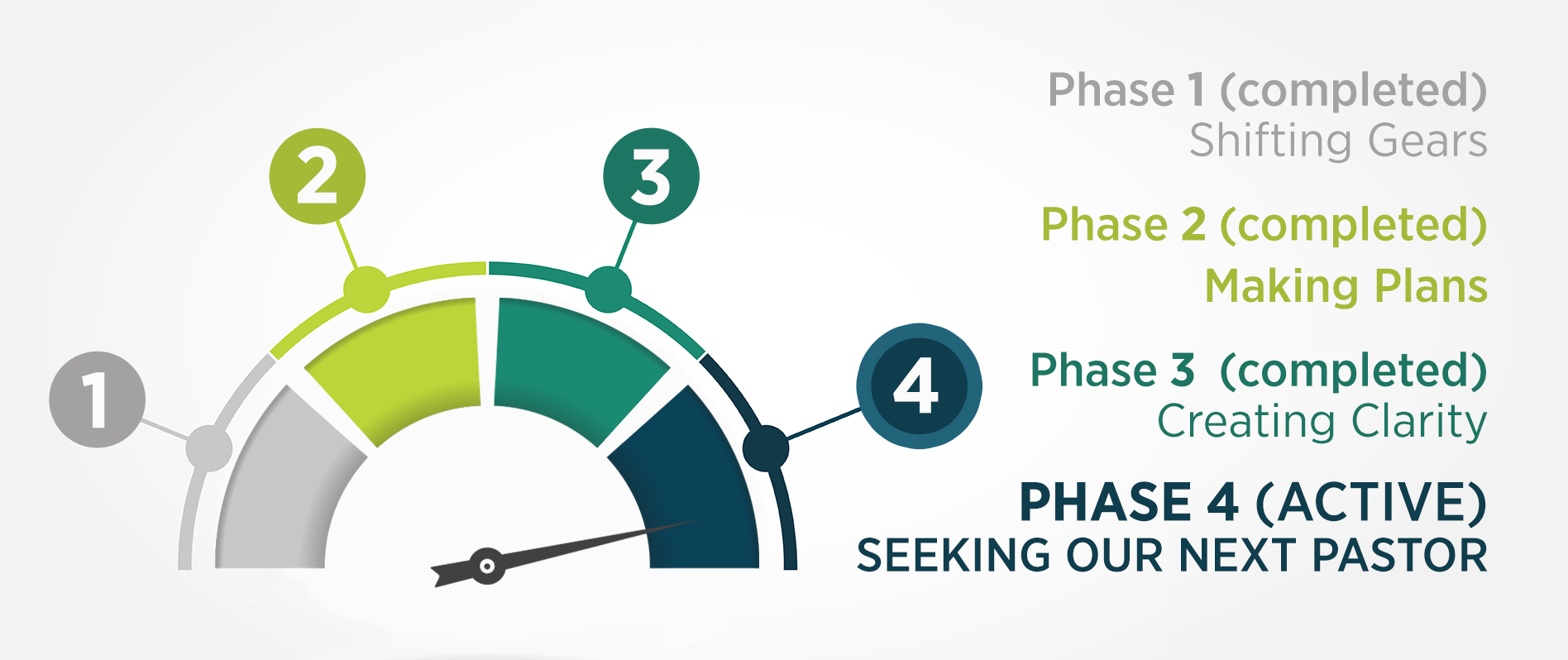 Phase One – Shifting Gears (COMPLETED)
Phase One included selecting the Interim Transition Team, identifying and interviewing candidates for an Interim Pastor, and then hiring the chosen candidate. We are excited that Dr. Matt Cook, Assistant Director of The Center for Healthy Churches, is now our Interim Pastor. You can read more about Matt, the Center for Healthy Churches, and the Interim Transition Team in the buttons on the right side of this page.
Phase Two – Making Plans (COMPLETED)
A Transition Plan has been drafted, and we are beginning to execute that plan. Our Senior Pastor Transition Team has now been selected (click their button at the right of the page for more information). This new team will be an integral part of the next steps and will guide us through the rest of the transition period. Also, our Communication Plan is nearly finished.
Phase Three – Creating Clarity (COMPLETED)
We have just completed Phase 3. We participated together in a church-wide Congregational Self-Study, which involved conversations around the themes of Celebrating Our Past, Examining Our Present, and Envisioning Our Future. Those conversations provided the source content for our Congregational Profile which will be used by the Pastor Search Task Force to inform pastoral candidates.
Phase Four – Seeking Our Next Pastor (ACTIVE)

During this final phase, the Search Committee begins their work, creating and sharing the Next Pastor Profile and executing the search process. The phase culminates in Call Weekend with the Pastoral Candidate and the Congregation.