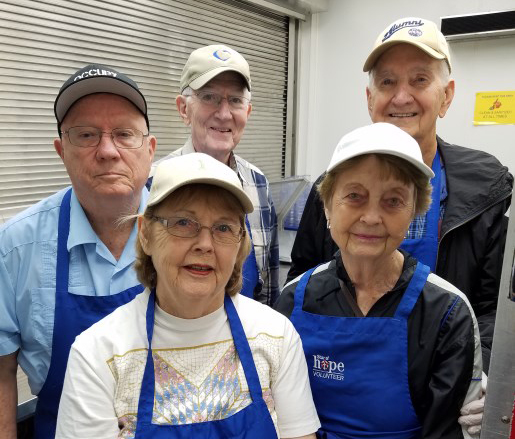 Primetimers On The Go (Focus, Spring 2017)
On January 27, sixteen Primetimers enjoyed a meal together at Pappas BBQ and attended a heartwarming play. The show, Lost in Yonkers, set in Yonkers, NY in 1942, was performed at College of the Mainland. A special point of interest for us was the Director of the play, Jim Hackett, son of our own Primetimers Marilyn and Jim Hackett. We all agreed Jim did a great job casting and directing this dramatic comedy.
On March 10, Primetimers had the great experience of volunteering in a soup kitchen at Star of Hope in Houston. Many Primetimers donated clothing, towels and sheets, diapers, and toiletry items or wrote notes of encouragement at the request of the staff at Star (Debbie Hampton's WBS class wrote over 70 cards!). When we arrived at Star, we were greeted warmly by the staff, and they expressed their thanks and appreciation.
Below are some of what the volunteers had to say:
"The need for funding is tremendous as we were told by the men's facility staff that they feed 300-400 men three meals a day. They asked us to bring as many towels as possible the next time we come. A GREAT MINISTRY. "
"What an awesome experience! I was quite impressed with those in charge of the kitchen. Everything was well planned and the food looked delicious. If the opportunity comes up again, be sure to go. I know I will!!"
"It was a rewarding experience to see how Christians step up to the plate to take care of our poor, homeless, mentally ill and abused but not neglected because of God's love for each of us."
"We had an interesting bus trip into parts of Houston we rarely visit. After the meal, we attended a chapel service. We were blessed by both the serving and the worship."
I was impressed with the careful handling of all the systems that the SOH had in place. I loved the hearts of the servers, the managers, and especially, the preacher at the chapel time."
I loved the patience of the ladies that let us invade their kitchen space. Loved the smiles on the faces of all the people we crossed paths with that day. My favorite was to hear the laughter of the little children and see the smiles on their precious faces."