Current Updates
To stay up to date:
Check this page for updates
Find us on social media. Look for UBCHouston
Download the UBC APP
Sign up for Enews
Update April 4, 2020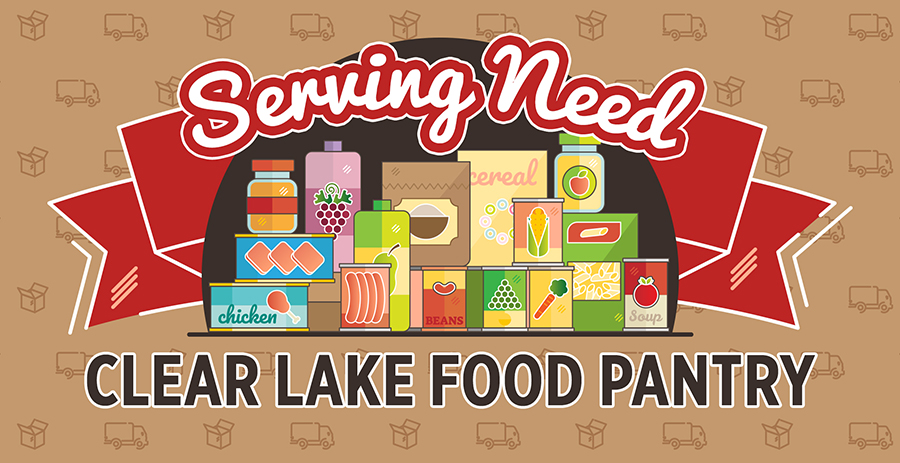 The Clear Lake Food Pantry needs our help!
The Clear Lake Food Pantry, housed at Clear Lake Baptist Church, is a lifeline for many people, serving ~300 families each week. As you can imagine, the number of those needing food is increasing exponentially as a result of our current economic crisis.
How can you help?
Purchase food and drop off at designated times
Volunteer to help receive donations onsite
Volunteer to help on distribution days
Please click here to go to the UBC website to read more detailed instructions about these opportunities. The instructions and guidelines are designed to keep everyone safe and to make the process as efficient as possible.
A note related to self-isolation and the food pantry: The food pantry is considered an essential business, just like a grocery store. Volunteers who drop off or distribute food at the food pantry are contributing to an essential service while engaged in those specific activities. There are opportunities here for volunteers to serve at their comfort level.
We are not encouraging you to do anything that would represent an uncomfortable level of risk for you or your family or that would go against what our local governmental guidelines allow. As always, please make prudent choices for your family.
Update: April 2, 2020
Thank you for staying connected with your UBC family! We're learning together that there are many ways to stay connected without being in the building.
Building and Office Hours Update
Since Harris County has extended the Stay Home, Work Safe order, UBC has canceled group meetings and events in the building through the end of April. The Executive Committee and staff will continue to monitor the situation and provide updates as new guidelines develop. UBC office hours will continue to be 9 am-4 pm. During these modified office hours, the phone will be staffed, and you can drop off tithes and offerings at the main entrance.

While the building will remain closed, there are more ways than ever to gather online as a UBC family throughout April.
Worship together online
Each Sunday, a new online worship service will be available that will feature music from previous services and a new message from Pastor Steve. You can find Sunday services online at ubc.org or on the UBC Houston app. You can also watch the sermon on our YouTube channel.

To find this video on Sunday morning:
Visit www.ubc.org, scroll down until you find the "Watch the Latest Message" bar, and click this button:
You can also watch the video on the UBC app. Click the sermon tab at the bottom of the screen and choose the "Facing the Critics" sermon series button. This week's video will be the top selection.
On YouTube, search for UBCHOUSTON (no space between UBC and Houston)
Remember, the video will be available any time after 8:00 Sunday morning.
Join UBC Kids Worship LIVE each Sunday at 11 am!
Each Sunday at 11 am, Children and Preschool Ministries will GO LIVE in the UBC Kids Facebook group! Search on Facebook for the UBC Kids Group and ask to join the group so your family can be a part of worshipping with us on Sunday mornings!
Bible Studies with the UBC family
Every Wednesday we are going Live on Facebook for a Pastor's Bible Study! Join us on the UBCHouston Facebook page at 6 pm each Wednesday.

A lot of our adult small groups (Weekend Bible Study groups) are meeting via Zoom conference sessions! If you aren't already a part of a small group, this is a great time to get connected. Our Adult Ministries office would love to help you find a group during this quarantine season. Email Adult Ministries at .

Have you seen the Lenten Devotional videos from our staff? Check out UBC's social media pages or visit ubc.org/lent to download a copy of the Lenten Devotional and to watch the staff devotional videos through this Lenten season.
Participate in Holy Week Activities online
Maundy Thursday- On Thursday, April 9, we are going to be creating an online Lord's Supper group experience led by Dr. Laufer using Zoom, an online meeting tool many of us are either familiar with or using already. We are planning to host several short sessions that evening with the same service order, each session lasting about 20 minutes. More information about the services and how to sign up for one coming soon!

Good Friday- We are creating a virtual service for Good Friday, similar to what we've traditionally done "in person" at UBC. The service will feature mostly new content that will be recorded in the coming week and will be available to watch on-demand starting Good Friday, April 10. The video will be posted in the same places where we are currently releasing our Sunday service videos, on our website, on the app, and on our YouTube channel (search for ubchouston).

Easter Sunday- We will celebrate the resurrection of Jesus together with a special online service. Stay tuned for more details, but the service will be available in the same places where you can find our Sunday online services. See the note above for how to connect.

Please continue to give as you are able. There are three ways to give: give online, drop off your gift at the church, or send a check by mail.

Find us on social media @ubchouston! We're sharing updates, devotional videos, and more.
Want to help others in the community, need help yourself, or have a prayer request? Email us: . If you need someone to talk to, our Faith Partners are also available. Email:
Update: March 31, 2020
Update: March 24, 2020
Building and Office Hours Update: Due to Harris County's Stay Home, Work Safe order, our building will be closed starting tomorrow (March 25). Also, our office hours will be modified to 9 am-4 pm. During these modified office hours, the phone will be staffed, and you can drop off tithes and offerings at the main entrance.
Update: March 19, 2020
To watch staff videos connected to our Lenten Devotional Series click here.
Update: E-news, March 17, 2020
As we navigate these trying times together, we want you to have the latest information about UBC worship services, ministry efforts, and scheduling for groups and other activities. In this video, Pastor Steve speaks to the following decisions, plans, and other developments:
There will be no onsite events or group meetings until April 10.

Sunday services and Pastor's Bible Study will continue to be offered online.
Pastor Steve answers questions from church members about how to give. To give online, visit ubc.org/giving.
He also shares information about how our church can continue to minister to each other and to our community during this time.

Update: March 15, 2020
This morning, Subsplash, the company that supports the UBC app is experiencing a major outage. They are currently working to resolve the issue, but for now, we suggest watching the online service here on our website. We will post a message here when the technical issue with the app is resolved.
Update: March 14, 2020
We continue to assess the impact of current health concerns on our community at large and on the day to day lives of the people of UBC.
Activities Canceled for the Upcoming Week
Today, we decided to cancel all group meetings and events for the upcoming week (March 15-21) that were scheduled to meet at UBC. We have not made this decision lightly but are prayerfully taking this step in coordination with sister churches, community leaders, and health experts.
This Sunday (March 15) Worship Services Will Be Online Only
As we noted in yesterday's update, Sunday worship services have been canceled tomorrow (March 15), however, we are producing a new video that will be offered as an online worship opportunity. The video will be posted on our website and our app early Sunday morning no later than 8 am. So if you choose to join us "virtually" and worship together, you can view the service video at your normal worship time. You can also watch it at your convenience as it will stay posted with our other service videos.

This week's video will feature some "encore" musical selections from recent traditional and contemporary services at UBC and a current message that will be recorded by Dr. Laufer on Saturday.

To find this video on Sunday morning:
Visit www.ubc.org, scroll down until you find the "Watch the Latest Message" bar, and click this button:
Alternatively, you can watch the video on the UBC app. Click the sermon tab at the bottom of the screen and choose the "Facing the Critics" sermon series button. This week's video, titled "Special Online Service" will be the top selection.

Remember, the video will be available any time after 8:00 Sunday morning.
Wednesday Night Pastor's Bible Study Also Online
Wednesday night, the weekly Pastor's Bible study will be Livestreamed via Facebook Live starting at 6 pm. We won't be gathering on site. You can connect with the Livestream on our Facebook page. Look for us under UBC Houston.
Other Notes
While our church building will remain open this week, we will take advantage of the time to allow for a thorough cleaning and sanitizing of our facilities as part of our ongoing plan to keep UBC as safe as possible for all of us.

UBC staff will be available to connect with people and concentrate on ministering to those in our church and community. A pastor of one of our sister churches described this shift in their congregation as moving from programming to caregiving. We think that is a great perspective for us to model during this time.

Steve Laufer, Senior Pastor
David Mobley, Executive Director
Update: March 12, 2020
Dear UBC Family,
Out of an abundance of caution and in consultation with local and state officials, we are canceling Sunday activities this weekend. This includes all worship services, WBS groups, and Sunday evening activities. We are planning to record a message from Dr. Laufer that we will make available on our website https://www.ubc.org/resources/sermons/ and our UBC app on Sunday morning. You can download the app on the various app stores (search for UBC Houston). While we are not holding worship services this Sunday, we will continue to monitor the situation week by week and keep you updated.
We want you to know that we are working hard to make our campus as safe as possible during this time, taking practical measures that fit the needs of our community and congregation. Our staff is staying informed and aware of recommendations by experts and officials in our area as well as state and national government agencies, including Centers for Disease Control and Prevention (CDC), City of Houston Health Department, and Texas Department of State Health Services and others.
Other UBC events may be adjusted, postponed, or canceled depending on a variety of factors. Here are two items of special note today:
CCISD has made the decision to close next week

,

so

Weekday Ministries will also be closed next week

. An email will be sent to Weekday parents with more info.

Date Night (scheduled for Friday, March 20) is canceled.

Our Spring preschool event "

Springtacular

" has been postponed until May 16 and will be re-designed instead as "Summer-

tacular.

" The new event will feature a petting zoo, a train, and other fun activities for preschoolers and their parents. Due to this change, the related Egg Stuffing event scheduled for March 26 will be canceled.
What has already been done?
We have a staff sub-group assigned to plan forward and make recommendations about what measures to implement and when certain actions would be reasonable. If you have been in our facility, you will notice we have added antibacterial soap by the sinks, hand sanitizer in common areas, and additional Kleenex in the Worship Center and other areas where we tend to gather. During this season, we will not ask folks to shake hands during our normal Sunday AM greeting time…although fist or elbow bumps are definitely in vogue.
We will do our best to keep you all informed over the coming weeks via e-news, on our website, etc. but you can also contact us, share prayer requests and give online by visiting our website. We are as close as a phone call or an email.
Final Thoughts
The uncertainty of this outbreak is creating anxiety in our workplaces, schools, and day-to-day activities. Yet we remain certain of God's steadfast presence and careful attention to all that is happening. Please join us in praying for those who are affected by this illness, as well as their caregivers and those who are working around the clock to minimize the impact of this virus.
In Psalm 46, we are reminded that it is God who is our refuge and strength, and our ever-present help in trouble. Therefore, let us not fear, but with confidence use this opportunity to be the hands and feet of Jesus through our prayers and our care for others.
Be strong and courageous,
David Mobley
Executive Director, University Baptist Church