Just for Kids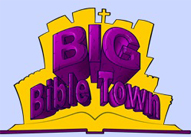 An interactive video game for children of all ages.
BIG Bible Town is an online game that immerses K-6 children in scripture-based Bible adventures with gameplay that teaches Christian values and encourages kids to put their faith into practice. Our goal is to help build Christian character by keeping kids connected to God's Word and instilling Bible knowledge that will serve them for a lifetime and beyond.
BIG Bible Town is a multi-player online game set in a 1st century animated Biblical world. The objective of the game is to create your own personal BIG Bible Town homestead, while also building a vibrant, church-centric community.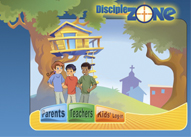 DiscipleZone is where kids go to grow! It is an exciting place to discover what it means to be Jesus'disciple. DiscipleZone s not just for kids - parents need to participate too! So come together and get ready to explore all there is to learn. If you know your special DiscipleZone address and are ready to get started, click on the Kid's Log-In button below.
KIDS! Find your "dial-In" code for each lesson on the lower right corner of your Disciple Guide DiscipleZone page (this is what you receive each Sunday Morning during 9:30 KIDZONE)!
Friends and Heroes is an animated adventure series for children featuring amazing 3D Bible Stories.
Friends and Heroes is the tale of two young people - Macky and Portia - whose idealism and friendship lead them across the ancient world, from the fabled Egyptian port of Alexandria to the besieged city of Jerusalem and finally, to the very heart of the Empire: Rome. As they fight for justice and even survival against the might of the Roman Empire, they become friends and then, in turn, heroes. Like our heroes, children will be empowered by what they see and hear, as they share the courage and compassion, the everyday dangers faced by Macky and his friends.