Women's Ministries' Kickoff and Pie-Baking Contest (Focus, Dec 2016)
PIES, PIES, PIES!
How many pies can one hundred women eat? About sixty! We didn't finish them all, but they were definitely tasted...and judged! Our Women's Ministries' Kickoff and Pie-Baking Contest was a smashing success.
The goal was to inform UBC women and guests about all of the wonderful opportunities of ministry and service that will be offered this year. (Visit ubc.org/women for more information.) But the real draw was fried chicken, green beans, biscuits, fruit-infused waters, door prizes and a grand prize drawing for a $50 gift card to DSW, because
"Beautiful are the feet of those who bring good news!" (Romans 10:15).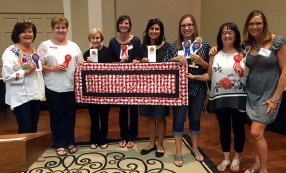 All of the beautiful pies were tasted and judged by UBC pastors and staff: Steve Laufer, David Mobley, Rick Carpenter, Randy Cox, Melissa Dutton and Ben Sandstrom. A husband made the grand prize Coconut Cream pie. It was really fun to hear about how husbands got involved in the friendly competition...trash talking each other's pies and texting pictures back and forth. I love how the men supported this event and got so involved.
While the women were enjoying their chicken dinner, they were also inspired by a video testimony of Lori Vaughn and Jennifer Simmons who shared how their involvement with Women's Ministries at UBC has changed their lives.
Thank you Michael Cowey for your incredible work on the video, and thank you Lori and Jennifer for sharing so sweetly and openly about your experiences. Thank you to everyone who helped make this event possible: the WM Events Team, Communications, pie coordinators Kallae Kreager and Lindsay Sandstrom (that was a ton of work!), and Stitches of Love Quilting Ministry that donated the hand made table runner to the grand prize winner.
We will definitely have this event again next year. It was So. Much. Fun!