UBCers on the Mission Field
UBC is a missional church. As a missional church, UBCers are encouraged to see where God is at work in the world and then to listen for the invitation to join in.
Many UBCers have accepted positions of service beyond the local, Clear Lake area.
George and Darline Archer
His Hands Ministry — USA
George and Darline served on the UBC staff for more than two decades. Now they run His Hands Ministry to help new and small churches grow and develop.
Read their latest update.
Contact the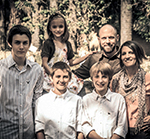 Lowell and Shay Ballew
Ripe for Harvest — Bolivia
The Ballews are partnering with the Cochabamba International Church as youth leaders and Lowell serves as the worship leader on Sunday mornings.
Read their blog
Contact the
Troy and Thai Beaver
Worship on Wheels (WOW) — Philippines
The Beaver family mission is to provide "mobile" praise & worship music, VBS, youth gatherings and/or any other event that glorifies our God to the unreached children of the Philippines. Read about the W.O.W. Project and Troy Story.
Watch the latest video newsletter and check out their Facebook page.
Contact the ,
Larry and Amanda Castro
HCJB Global — Quito, Ecuador
Larry is working with the radio training and communications team. Amanda is teaching English to children.
Read their latest newsletter and and visit the Castros' blog
Contact the
Sterling and Jenna Edwards
Crossroads Church & Ecclesia Church — Long Island, NY
Sterling was UBC's Student Minister for three years. Now he and his family are partnering with the North American Mission Board to plant churches on Long Island, NY.
Visit the websites, Crossroads Church and Ecclesia Church of East Islip
Contact the
Shannon Hopkins
London, England
Visit her website
Visit Shannon's latest mission incubation
Contact
Rod and Connie Johnson
Oaxaca, Mexico
Rod and Connie Johnson serve the poor and lost through medical and humanitarian help. They encourage and disciple tribal people, and help them reach out to their people groups. Read more about the Johnsons and the Oaxaca Mission
Visit their website and read their latest newsletter
Contact the
Larry and Sally Pepper
Int'l Mission Board — Iringa, Tanzania
Contact the
Gary and Cheryl Price
Durban, South Africa
Visit their website
Contact the
Matthew and Nikki Savage
The Journey Church — Seattle, WA
Megan Turley
Mennonite Central Committee — Honduras
Megan had some of her first exposures to missions through UBC. She now serves in Honduras with the Mennonite Central Committee (MCC) coordinating youth exchange programs, service-learning trips, and networking.
Visit the MCC web site
Contact
Bob and Diane Wagstaff
Romania
Read more about the Wagstaffs and their mission
Contact the .
Giving
If you would like to donate to one of more of these missionaries, you may
make a Designated Gift online, or
place a check in the UBC yellow offering envelope.