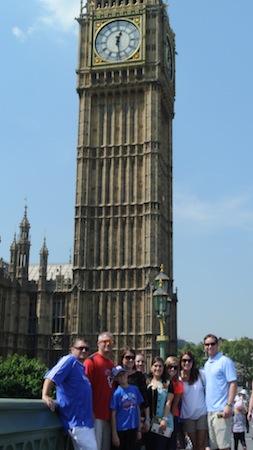 "Therefore, since we are surrounded by such a great cloud of witnesses, let us throw off everything that hinders and the sin that so easily entangles, and let us run with perseverance the race marked out for us." Heb 12:1
"Run the Race" is the name of the event that we are supporting here in London, and Hebrews 12:1 is sort of the anchor verse and namesake for the event. "Run the Race" is being hosted by a collection of local churches, of many denominations, who have come together to use the London Olympics as a platform to reach the community for Christ.
The analogy used in the verse of running a race makes a nice connection to the Olympic games. But it also sets a nice stage for this missional activity. Many people aren't aware of just how un-churched the UK really is. Statistics say that upwards of 90% of the population do not attend church regularly; even though about 70% consider themselves Christian.
So in fact, the churches of the UK are running a race, trying desperately to revive an inactive Christian faith in their communities. The early returns of the event have been quite successful, as God is moving mightily in this community. For the opening ceremony, there was a huge projection screen set up in the park to televise the event for the community. We expected about 2500 people to turn out, but we had an estimated 6500! For Sunday service today, we expected about 500 people, but we had closer to 1,000!
We're humbled to be able to play a role in what God is doing here. We've had many opportunities already to engage members of the community, as you can see in our pictures. Please continue to pray that God will use our team and others involved in this event to bring His glory to this community.
- Kiley & Melissa Wren
Comments
Login/Register to leave comment