DR Mission Trip (Families) Info Meeting
Sunday, February 11, 2018, 6:00 PM - 7:00 PM
The Hangar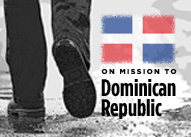 Join us for a special information meeting about the 2018 Family DR Mission Trip!
A UBC-sponsored FAMILY trip to the Dominican Republic to serve in partnership with South Texas Children's Home Ministries.
TRIP DATE: Tuesday, July 03 - Wednesday, July 11, 2018
Families who serve together are greatly strengthened and special things happen!
Intentionally designed for families, children elementary-aged through middle school are welcome (and encouraged!) to come. There will be ministry opportunities for all ages.
Some of the things we might expect to do:
Family friendly (but hard) construction projects
Host Vacation Bible Schools and other children's activities
Foster Care and Orphanage interaction
The team will spend the final three days at a resort to debrief, reflect, relax and play!
Location: Dominican Republic
Partner: South Texas Children's Home (STCH) International Ministries
Cost: Varies by family size – Please contact leader
UBC Contact Person(s): Karen Murphy and / or Jennifer Ebell