By now most of the news media has forgotten about this area of the world. However great need still exists for the Mississippi Delta regions of Louisiana. I received a call from the Comanche Unit Director on Friday, Sep 7 to see if we could be the third replacement crew for their unit starting on Saturday Sep 15th. Jim Smith and I were ready to go and departed Houston for the 7 hour drive to Port Sulphur, Lousiana. The Unit had been first deployed to Baton Rouge for several days prior to repositioning in Port Sulphur on the Delta south of New Orleans on Tuesday 11th. It took that long for the water to begin to recede and machinery to start clearing the roads down Highway 23, the only path down the delta. As we were driving in, the further south we came down Highway 23, the more destruction, mainly from the storm surge that swept in over the delta. Debris was everywhere in spots, crews were still out on the roadway with one lane each way open on a four lane highway. We passed houses that were gutted, everything they owned out on the street. Also boats and vehicles smashed and washed up, having been pushed out of the way by heavy machinery.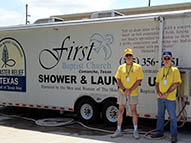 Jim Smith and I arrived Saturday and immediately started working providing laundry service to local survivors and disaster relief workers. One lady came by and said "I have been trying to get my laundry done for 2 days would you help out?". "Absolutely" we replied. How appreciative she was for such a simple act. As I write this on Wednesday around noontime we have provided 71 loads of laundry and 73 showers. FEMA provided 3 tractor trailers full of bottled water here at the First Baptist Church where we are headquarted. Each day, cars line up to get 3 cases of water as the local water is still not safe to drink. The workers are few, but the need is so great. Life will not return to normal for these folks for some time.
UBC has had teams back and fourth since Isaac hit Louisiana helping with disaster relief in Mud-Out. Currently we are assisting with a mobile shower/laundry unit and soon to roll out will be the UBC chainsaw team. Please continue to pray for the people of the Gulf Coast that were hit by this storm.
- Kyle Tupin
Comments
Login/Register to leave comment