The following letter came to us after the Genesis Youth ministry group received their donation from our VBS kids. UBC students and their adult sponsors will travel to South Africa July 19-30 to work with the youth and children there.
Dear Kyle Wilson and Team,
I am writing to thank you for your generous $3,233.39 donation. We are very happy and appreciative to learn that Genesis Youth was selected as the recipient to receive this gift.
As I sit down to write you, thanking you for what you have done for us, I almost want to quote the verses from 2 Corinthians 9 word for word!!...for I know your eagerness to help… Thank you for sowing generously, for giving from your heart, for not only blessing us with finances, but also with your time and your prayers.
Our mission here in the Genesis Youth Ministry is to sow generously into the lives of our youth, teaching about Jesus and His incredible love for them, as well as His grace and His righteousness – it is our vision to raise God fearing young people who will grow into Christ centered leaders in our community, there by bringing change that is based on the hope found only in Jesus.
In order to do this we need people who are role models and coaches – working intentionally with our youth. We have some great young people on our team as interns and staff. Our ongoing challenge is to raise funds for this purpose. Our youth interns work intentionally in our programs, while being coached in their spiritual walk and also enrolled in a study program for their future career. In this way we help to support our leaders as they make the transition between high school and growing up into the real world.
The donation collected by the UBC kids church will be used to this end and we are deeply grateful for your contribution, which will support the ongoing work here at Genesis and the Norwegian Settlers Church. Thank you so much!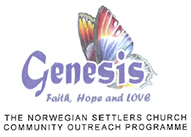 We look forward to working alongside the youth team next week. Safe travels, and please pass on our greetings to your team.
Blessings,
Lynn Brackley, Operations Manager-Youth